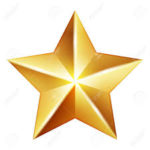 We are disappointed to announce that the MMMF 10th Annual 5k Walk/Run for the Heroes, scheduled for 10/10/2020 has been cancelled due to the amount of time involved in planning, the current COVID-19 situation and the uncertainty that an event of this size will be allowed in October.
We have proudly raised and distributed  $74,012.25 at the 2 previous 5k's since we started this program. 
Sponsorships and donations of any dollar amount can be made specifically to one team or can be donated to the Team Scholarship Donations then will be divided evenly among these teams.
You can do this by following the team link and making a donation thru Pay Pal or mailing a donation to: 
We have appreciated your support over the last 9 years and your help in honoring our Missouri Military Heroes from the recent conflicts that have made the ultimate sacrifice. 
Chris Andrews Founder and President MMMF Board Members 
and our dedicated volunteers 
PLEASE NOTE: On donation page, please make sure the correct 
"TEAM NAME" or "GENERAL FUND" is specified for your donation. 
---
Please note that the video below is from 2015. While the purpose of our fundraiser has changed, we wanted to ensure that this years 5K date (October 12, 2019) is not confused by the date included in the video below. We wanted to keep this posted as it is put together beautifully and reflects the mission we have set out to accomplish since our inception 9 years ago. 



All of our fundraisers have one goal in common: to raise money so that we can honor Missouri's fallen military personnel who were killed in action or a casualty of war during Operation Iraqi Freedom, Operation Enduring Freedom and the Desert Storm/Shield wars; this is our Phase Two project. Our Phase Two project, the memorial, was unveiled on May 27, 2017. 
Our Phase One project, the Gold Star Pavilion, was erected at Jefferson Barrack Park in May 2015. To see more pictures, and learn more about our nonprofit, please visit our About section on this website.
MMMF Mission Statement 2020
"To maintain and or improve the Missouri Military Memorial & The Gold Star Pavilion, to hold functions for Gold Star Families, and to support Academic Scholarships in honor of local Fallen Military Heroes by helping immediate Gold Star Family Members and immediate families of local Fallen Heroes raise funds to start new Scholarships; add to existing Scholarships or give out one time Scholarships in honor of their Fallen Military Hero at a school of their choice."
The Missouri Military Memorial Foundation is proud to announce that $35,577.22 was raised at the 8th Annual 5k & will be given to Gold Star Families who had Teams at this year's 5k & have a scholarship fund in honor of  their fallen hero! 
Thank you all for your support!

Registration Deadline to include commemorative T-Shirt is September 15, 2019
Registrations after Deadline September 16, 2019 will not include commemorative   T-Shirt. Please check with registration table the day of 5K for available T-Shirts.
*You may still register for the 5K Walk/Run for the Heroes on the day of the event. 

Register a team of 10 or more by September 15th, 2019:
We'll make you a sign representing your team or hero to be displayed on the 5K route.

Earn free team personalized 5K t-shirts, for every member of your team, with your team name printed on the back.


In order to receive a t-shirt, with your paid registration, please register no later than September 15, 2019. No t-shirt orders can be processed after this date due to our vendor deadline. Please check with registration table day of 5K for available T-Shirts.

T-SHIRT PICK UP DAY:
Saturday, October 5, 2019
Location: Mandy's Tees & More
3828 South Lindbergh / Suite #116 / Sunset Hills, MO  63127
10 a.m. – 2 p.m.
T-SHIRT SIZES ARE AS FOLLOWS:
(please select desired size on your registration)
YOUTH – Small (4-6) | Medium (8-10) | Large (10-12) | X-Large
ADULT – Small | Medium | Large | Extra Large | 2X | 3X
2018 YEARS DESIGN: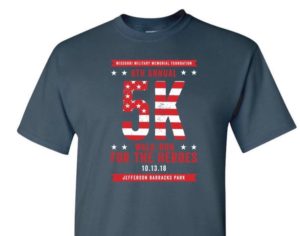 Announcing our Premium Sponsor – Roeslein & Associates, Inc
Thank you for your generous donation!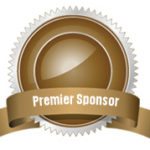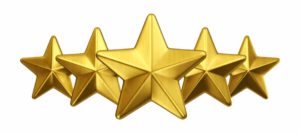 ---
Truck Centers, Inc 
---
American Legion Post #162
Castle Contracting LLC
---
Richard & Liz Fadel
---
---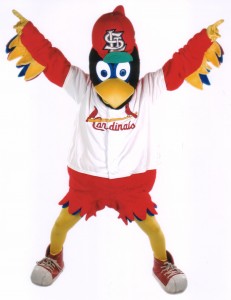 Meet & Greet our favorite Fredbird™ of the St. Louis Cardinals. Bring your camera and get your picture taken with this one of a kind and oh so funny mascot!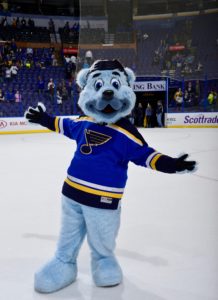 Meet and Greet our favorite Louie™ of the St. Louis Blues.Bring your camera and get your picture taken with this one of a kind and oh so funny mascot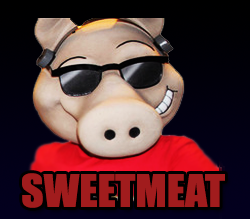 Sweetmeat and the KSHE 95 van will be on site to meet and greet our participants. Bring your camera!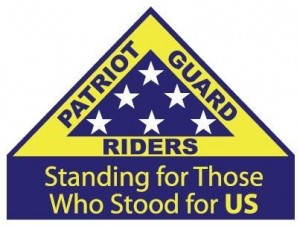 The St. Louis Chapter of the Patriot Guard Riders will be in attendance once again this year to show their support & respect for our fallen military personnel.

Return of the Gateway Superfriends! They will be in attendance to meet & greet our younger participants for photo opportunities. To learn more about Gateway Superfriends, please visit their Facebook by clicking on their logo.

Enter through the North Gate off of Broadway heading south. Take first left at Gark Road. Head east on Gark and turn south (right) on Bagby Road. Take an immediate left (east) into parking area for pavilion.
You can use this link to help you sort out your personal directions via Google Maps.

To join our Facebook event page and keep up on the latest information please visit: https://www.facebook.com/events/310352262732531

Fore more detailed information about the 5K Walk/Run for the Heroes please visit our Information page by clicking here.
To learn more about our 501(c)3 non-profit organization, please visit our official website: www.missourimilitary.org

To sponsor our 9th Annual 5K Walk/Run for the Heroes, please visit our Corporate Sponsorship page located at this location.