DONATIONS: To make a donation to Team Pinson – please click on the DONATE button below. Please allow 24-48 hours for your donation to be listed in this section. 
Donation Deadline: 10/10/2020
---
---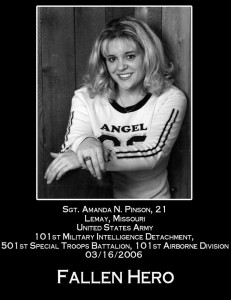 Team Pinson will be walking/running in honor of SGT Amanda Pinson who was killed in action on March 16, 2006 just outside of Tikrit, Iraq.
SGT Pinson was the first female intelligence soldier to ever be killed in combat as well as the first female soldier from the State of Missouri to be killed in action.
Amanda was with the 101st Military Intelligence Detachment, 501st Special Troops BN, (Air Assault) 101st Airborne
Team Pinson proudly walks in Amanda's honor!
TEAM CAPTAIN: Bryan Pinson
DONATIONS:
$50    Network for Good  
$150    Kathy Carlson
$50 Grandpa
$50 Chris & Rick
$25 Linda Hemmer
$50 The Jerome's 
$50 Bonnie Ray 
$236.64 Team Pinson 
TOTAL MONIES RAISED:
$1,490.64
TEAM MEMBERS: