DONATIONS: To make a donation to Team Woods – please click on the DONATE button below. Please allow 24-48 hours for your donation to be listed in this section. Donations do not include a commemorative t-shirt.
---
---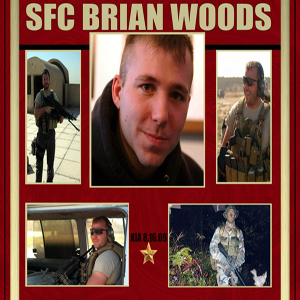 Team Woods will be walking in honor of SFC Brian Woods who died August 16, 2009 from wounds suffered during Operation Enduring Freedom.
Team Woods proudly walks/runs in Brian's honor on October 12, 2019.
DONATIONS:                                                                                                              

$250 American Precision Die Casting                                                                         $30 Michael Trout                                                                     
TOTAL MONIES RAISED: $1,270

TEAM MEMBERS:
Kevin Anderson
Carol Biggerstaff
Don Biggerstaff
Kain Biggerstaff
Quinn Biggerstaff-Luckett
Tiffany Bradley
Paul Carlock
Catrina Kelemen
Chris Lange
Mark LePage
Molly LePage
Candace Moore
Kim OMara
Bill Pemberton
Matt Presnell
Rebecca Presnell
Carol Reid
Michael Reid
Shane Roden
JoAnn Suttles
Karen Suttles
Mikayla Suttles
RIchard Suttles
Tracey Suttles
Brian Villmer
Lori Villmer
Michele Villmer
Dennis Whisenand
James Wilkinson
Pam Woods
Mike Young
Amanda Zapolski
Garrett Zapolski
Jonathan Zapolski
Steven Zapolski
Day of Registrations: 
Kim Wright
Nathan Stepp
Ashleigh Suttles