DONATIONS: To make a donation to Team Veterans – please click on the DONATE button below. Please allow 24-48 hours for your donation to be listed in this section. Donations do not include a commemorative t-shirt.
---
---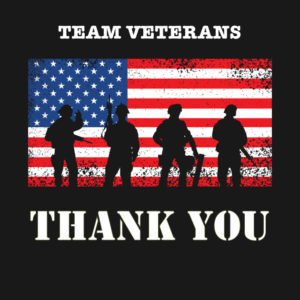 Team Veterans proudly walks/runs in honor of all Veterans who serve or those that have served on October 12, 2019.
Thank you for your service!
TEAM CAPTAINS: Richard & Liz Fadel
DONATIONS:                                                                                                              $500 Richard & Liz Fadel                                                                                          $200 Mr. & Mrs. William Sei                                                                                        $75 Mr. & Mrs. Mike Grefrath                                                                                      $50 Mr. & Mrs. Sam Grefrath                                                                                      $50 Kurt & Jerry McDonald                                                                                      $300 Gerry & Bridget Wigmore                                                                                      $25 Lisa Rutledge                                                                                                           $50 Regina & Ross Summers                                                                                                             
TOTAL MONIES RAISED: $1,425
TEAM MEMBERS:

Elizabeth Fadel
Sherri Mach
Greg Mach
Paul Marrs
Debbie Marrs
Jenna Breakfield
Alison Breakfield