DONATIONS: To make a donation to Team Veterans – please click on the DONATE button below. Please allow 24-48 hours for your donation to be listed in this section. 
Donation Deadline: 10/10/2020
---
---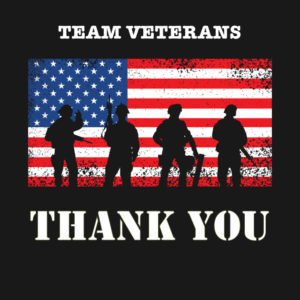 Team Veterans proudly walks/runs in honor of all Veterans who serve and those that have served! Thank you for your service!
TEAM CAPTAINS: Richard & Liz Fadel
DONATIONS:      
$500    Liz Fadel
$50    Claire Crosson
$50    Denise Grefrath
$20    Joan Heard
$100 Bill Sei
$25 Elizabeth Matteo 
$50 Toni Keating 
$40 Regina Summers 
$40 Kurt & Jerry McDonald 
$100 Harry & Mary Kay Otto
$25 George & Elizabeth Rutledge
$25 Liesel Farris
TOTAL MONIES RAISED:
$1,025
TEAM MEMBERS: