DONATIONS: To make a donation to Team White – please click on the DONATE button below. Please allow 24-48 hours for your donation to be listed in this section. Donations do not include a commemorative t-shirt.
---
---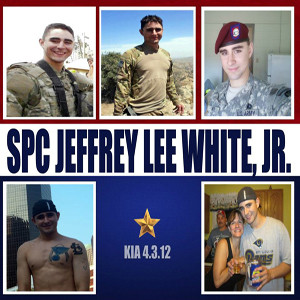 Team White will be walking in honor of SPC Jeffrey Lee White, Jr. Jeffrey was a member of the 501st Airborne based in Fort Richardson Alaska. He was deployed to Afghanistan in December of 2011. He lost his life in Khost Province Afghanistan on April 3rd, 2012.
Team White proudly walks in Jeffrey's honor on October 12, 2019.
TEAM CAPTAINS: Jeff and Paula White
DONATIONS: 
$25 Virginia Howard                                                                                                       $25 Katie Crawford                                                                                                       $100 Mark Herald
TOTAL MONIES RAISED: $905
TEAM MEMBERS:
Veronica Dodds
Heather Filley
Jeff Filley
Emily Gullet
Jesse Gullet
Cris Herold
Mark Herold
Josh Howard
Makenzi Howard
Morgan Howard
Randi Howard
Virginia Howard
Leonard Morris
Joe Rauls
Katherine Rauls
Ty Rauls
Andrew Reidt
Mallory Reidt
Amber Ritchie
Linda Sauer
Ron Sauer
Maureen Smith
Bobby White
Darlene White
Jeff White
Kyle White
Michael White
Paula White
Beth Workman