DONATIONS: To make a donation to Team Beckerman – please click on the DONATE button below. Please allow 24-48 hours for your donation to be listed in this section. Donations do not include a commemorative t-shirt.
---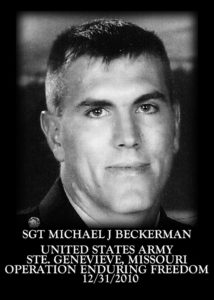 Team Beckerman will be walking/running in honor of SGT Michael Joe Beckerman of the 101st Airborne who was killed in action on December 31, 2010 while serving in Operation Enduring Freedom as a combat engineer.
Michael was with the 2nd Brigade Support Troop Battalion, 2nd Brigade Combat Team, 101st Airborne Division
Team Beckerman proudly walks/runs in Michael's honor on October 12, 2019.

TEAM CAPTAIN: Lisa Mcgregor
DONATIONS:

TOTAL MONIES RAISED:
TEAM MEMBERS: