DONATIONS: To make a donation to Team Beckerman – please click on the DONATE button below. Please allow 24-48 hours for your donation to be listed in this section. 
Donation Deadline: 10/10/2020
---
---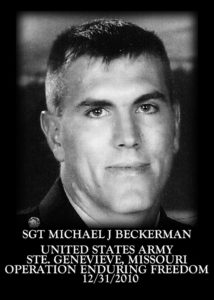 Michael was with the 2nd Brigade Support Troop Battalion, 2nd Brigade Combat Team, 101st Airborne Division.
Team Beckerman proudly walks/runs in Michael's honor!
TEAM CAPTAIN: Lisa Mcgregor
DONATIONS:
$20    Jill Turner
$50    Cindy Kirkpatrick
$100    Mark Mcgregor
$100    Steven Davis
$100    Mendi Baker
$35    Mendi Baker
$1000 Julie Huhman
$200    Stephani Breig
$25    Margaretta Beckerman
$25    Tim Gibson
$500 Johnny & Dani Foreman
$100 Bill & Donna Lucas
$15 Team Beckerman 
$25 David Greer
$100 Tony Cooper
$50 Belinda Vaugn
$222.38 Team Beckerman 
$60 Dwayne Holst
$165 Lisa Beckerman
TOTAL MONIES RAISED:
$2,892.38
TEAM MEMBERS: