PLEASE NOTE: On donation pages, please make sure the correct
"TEAM NAME" or "GENERAL Fund" is specified for your donation.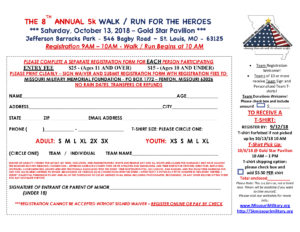 REGISTRATION FEES:
$25 for ages 11+
$15 for ages 10 and under
Please click below for the Registration Form
PRINTABLE 5K REGISTRATION FORM
AND MAIL TO:
MMMF – PO Box 1772 – Fenton, MO  63026
ONLINE REGISTRATION AND FEES: 
https://racesonline.com/events/mmmf-5k-walk-run-for-the-heroes
$28 for ages 11+
$17.50 for ages 10 and under
***PLEASE NOTE – If registering online between 9/5 – 10/6 – there will be a          $5 increase in registration fees***
        ***Please note we have passed on the processing fee for the online registrations to the participants this year.***
***This is NOT a timed race, but a race clock will be at the start/finsh line            for self timing.***
WAIVER OF LIABILITY
I HEREBY FOR MYSELF, MY HEIRS, EXECUTORS, AND ADMINISTRATORS, WAIVE AND RELEASE ANY AND ALL RIGHTS AND CLAIMS FOR DAMAGES I MAY HAVE AGAINST THE MISSOURI MILITARY MEMORIAL FOUNDATION – JEFFERSON BARRACKS COUNTY PARK OR ITS AFFILIATES AND SUBSIDIARIES, AND THEIR RESPECTIVE OFFICERS, DIRECTORS, EMPLOYEES, SPONSORS, COORDIANATING GROUPS AND ANY INDIVIDUALS ASSOCIATED WITH THIS EVENT THEIR RESPRESENTATIVES, SUCCESSORS, AND ASSIGNS, AND WILL HOLD THEM HARMLESS FOR ANY AND ALL INJURIES SUFFERED TO MYSELF, BELONGINGS OR VEHICLES (S) IN CONNECTIONS WITH THIS EVENT. I ATTEST THAT I A PHYSICALLY FIT TO COMPETE IN THIS EVENT. FURTHER, I HEREBY GRANT FULL PERMISSION TO ANY AND ALL OF THE FOREGOING TO USE MY LIKENESS IN ALL MEDIA INCLUDING PHOTOGRAPHS, RECORDINGS, OR ANY OTHER RECORD OF THIS EVENT FOR ANY LEGITIMATE PURPOSE.