---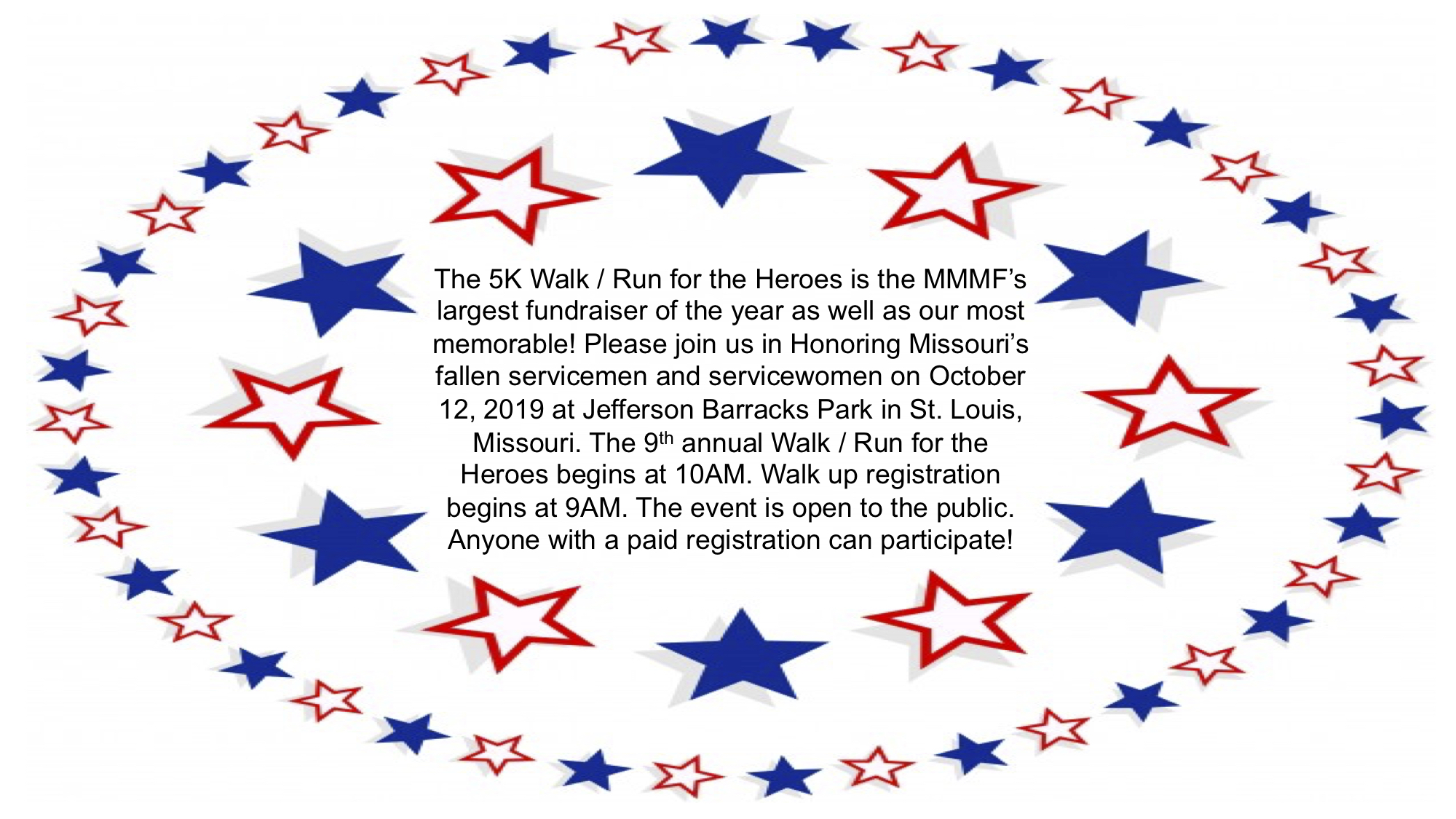 ---
PLEASE NOTE: If a donation is made on a Team Page, please make sure the correct
"TEAM NAME" is specified for your donation.
---
2019 MMMF 5K Registrations ONLINE ONLY
Click to Register:
https://raceroster.com/events/2019/23893/mmmf-9th-annual-5k-walkrun-for-the-heroes?fbclid=IwAR2EVhQuztYVFIGh4TAnps8ZnWDex5QOogn0i5soG1_IHy7oZXAMJYn9sAk
***This is NOT a timed race, but a race clock will be at the start/finsh line            for self timing.***
*****PLEASE NOTE*****
Deadline to register for WITH T-shirt is September 15th, 2019.
After September 16, 2019 you WILL NOT be guaranteed a T-shirt with your Registration,   T-shirts MAY be available day of 5K at the Registration Table.
---
MMMF Mission Statement 2019
"To maintain and or improve the Missouri Military Memorial & The Gold Star Pavilion, to hold functions for Gold Star Families, and to support Academic Scholarships in honor of local Fallen Military Heroes by helping immediate Gold Star Family Members and immediate families of local Fallen Heroes raise funds to start new Scholarships; add to existing Scholarships or give out one time Scholarships in honor of their Fallen Military Hero at a school of their choice."
The Missouri Military Memorial Foundation is proud to announce that $35,577.22 was raised at the 8th Annual 5k & will be given to Gold Star Families who had Teams at this year's 5k & have a scholarship fund in honor of their fallen hero!
Thank you all for your support!