DONATIONS: To make a donation to Team Melton – please click on the DONATE button below. Please allow 24-48 hours for your donation to be listed in this section. Donations do not include a commemorative t-shirt.
---
---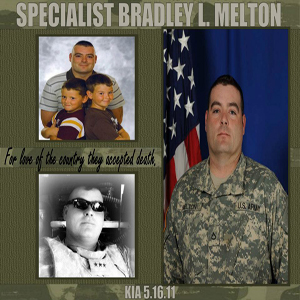 Team Melton will be walking/running in honor of SPC Bradley L Melton who was killed in action on May 16, 2011 during Operation Enduring Freedom.DO
Team Melton proudly walks in Bradley's honor on October 12, 2019.
TEAM CAPTAIN: Angelica Ornelas
DONATIONS:

$200 Anonymous
TOTAL MONIES RAISED: $1,000

TEAM MEMBERS:

Benita Beem
Liaam Beem
Malakai Beem
Steven Beem
Willow Beem
Theresa Bommarito
Amanda Cannon
Grace Cannon
Kaden Cannon
Luke Cannon
Sherry Dillon
Cindy Edburg
Kaela Grytness
Cathy Haag
Dawn James
Scott Lear
Cynthia Muse
Angelica Ornelas-Skaggs
Thomas Rector
Susan Sawinski
Amanda Schivitz
Landen Schivitz
Owen Schivitz
Nikki Seckel
Nick VanDeventer
Nolan Wilson
Tommi Woolsey
Day of Registrations: 
Rocky Smith
Becky Witham
Belle Witham