DONATIONS: To make a donation to Team Eddie – please click on the DONATE button below. Please allow 24-48 hours for your donation to be listed in this section. Donations do not include a commemorative t-shirt.
---
---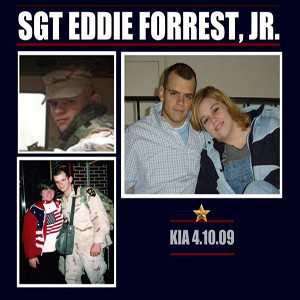 Team Eddie will be walking/running in honor of SGT Edward Forrest, Jr who was killed in action on April 10, 2009 during Operation Iraqi Freedom.
Eddie was with the 1st BN, 67th Armor Regiment, 2nd Brigade Combat Team, 4th Infantry Division
Team Eddie proudly walks/runs in Edward's honor on October 12, 2019.
TEAM CAPTAIN: Tina Hessler
DONATIONS:
TOTAL MONIES RAISED: $345

TEAM MEMBERS:
Matthew Dodds
Sean Everett
John Gilliland
Margie Gilliland
Tina Hessler
Chris Krohn
Sarah Lynch
Sarah Lynch
Wendy Lynch
Brittany Minor
Craig Payne
Megan Tiroch
Sean Warren