DONATIONS: To make a donation to Team Costello – please click on the DONATE button below. Please allow 24-48 hours for your donation to be listed in this section. Donations do not include a commemorative t-shirt.
---
---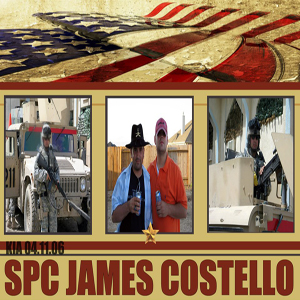 Team Costello will be walking / running in honor of SPC James F Costello III  who was killed in action on April 11, 2006 during Operation Iraqi Freedom.
Team Costello proudly walks/runs in James's honor on October 12, 2019.
TOTAL MONIES RAISED: $1,245
DONATIONS:
$50 Patricia Fletcher
$50 Adrienne Swanson
$75 Roger Frank
$50 Patricia Gates                                                                                                          $50 Roseann Hughes 
TEAM MEMBERS:
Greg Anderson
Laurie Anderson
Dave Beck
Olivia Beck
Zach Beck
Joe Bilello
Judy Bilello
Paul Buffa
Catie Costello
Jim Costello
Rob Costello
Bethany Cotter
Debbie Crecelius
Mike Crecelius
Janna Eastwood
Debbie Ferbet
Shelby Ferbet
Maggie Friedhoff
Megan Hasty
Jeremy Horman
Kathy Karasick
Michael Karasick
Brayden Kerns
Brent Kerns
Cameron Kerns
Dana Kerns
Alison Lappe
Michael Lively
Scott Morga
Stan Morga
Amberly Peterson
Terisa Peterson
Jenn Pretto
Mary Senciboy
Michelle Sonderman
Kevin Varwig
Carroll Wood
Day of Registrations: 
Mike Zimmerman