DONATIONS: To make a donation to Team Edens – please click on the DONATE button below. Please allow 24-48 hours for your donation to be listed in this section. Donations do not include a commemorative t-shirt.
---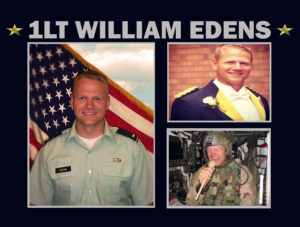 Team Edens will be walking in honor of 1LT William Edens who was killed in action on April 28, 2005 while serving in Operation Iraqi Freedom.
We are walking for my biggest hero my big brother 1st Lt. William Edens. He was a graduate from Mizzou. He would give the shirt off his back to make you happy!
Wil served in the 1st Battalion, 5th Infantry Regiment, 1st Brigade, 25th Infantry Division (Stryker Brigade Combat Team)
Team Edens proudly walks/runs in Wil's honor on October 13, 2018.
TEAM CAPTAIN: Nikki Edens
TOTAL MONIES RAISED: $525
DONATIONS:
James Robinson – $30
Amber Schneider – $20
Phyllis Siegel – $25
Anne Ahrens $25
Sonja Wilson $30
Greta Conor's – $65
Royce Simpson – $25
TEAM MEMBERS: Courtney Becker
Greta Connors
Katie Connors
Kevin Connors
Tim Connors
Cora Connors Y
Savannah Connors Y
Melissa Crossen
Nicole Duncan
Jan Edens
Katherine Edens
Nikki Edens
Stephanie Thomas