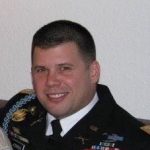 DONATIONS: To make a donation to Team Jezierski – please click on the DONATE button below. Please allow 24-48 hours for your donation to be listed in this section. Donations do not include a commemorative t-shirt.
---
---
After graduating from high school, Eric enlisted in the U.S. Marine Corps, entering June 26, 1990, and receiving his honorable discharge June 25, 1994. He then obtained his bachelor's degree in agriculture and animal science from the School of the Ozarks near Branson. He furthered his education with the University of Phoenix, obtaining his master's degree in business administration. On Sept. 28, 2004, he enlisted in the U.S. Army, retiring as a captain, Dec. 23, 2014. Eric was proud to have defended our country in the Gulf War, in deployment to Afghanistan, Kuwait, Jordan and Iraq, and he received many awards. He was honored to have received a Bronze Star Medal. He was currently a member and senior vice commander of V.F.W. Post 2482 in St. Clair. After his retirement from the military, Eric formed Jezierski Livestock LLC, and was raising Brahma cattle.

Team Capt Eric Jezierski proudly walks/runs in Eric's honor on October 12, 2019.
DONATIONS:
$50 Debra Meiners                                                                                                         $30 Thomas Boyland                                                                                                     $50 Nathan Harris                                                                                                         $100 Ronald Jezierski                                                                                                 $500 James Myers  – VFW Post 2482 & Auxiliary  
TOTAL MONIES RAISED: $1,520
TEAM MEMBERS:
James Alexander
Tawana Berner
Henry Berry
Ryan Berry
Tammy Berry
Kristen Cully (Perkins)
Darlene Dabney
Charlie Deterding
Stephanie Deterding
Bill Emrick
Joyce Emrick
Vicki Emrick
Nathan Gould
Colleen Hoeflinger
Erin Jezierski
Jeff Jezierski
Ron Jezierski
Sharon Jezierski
Grant Lubsch
Isabelle Moses
Kristina Moses
Olivia Moses
RJ Moses
Hannah Roberts
Angie Shea
Audrey Siebenmorgen
Brian Siebenmorgen
Day of Registrations: 
Tome Daylord
Ron Gloriod