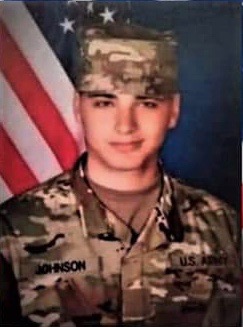 DONATIONS: To make a donation to Team Johnson– please click on the DONATE button below. Please allow 24-48 hours for your donation to be listed in this section. Donations do not include a commemorative t-shirt.
---
---
Team Johnson will be walking in honor of SPC Jackson Johnson who was Killed in Action on March 5, 2019 while serving in Operation Sparta Shield in Kuwait.
SPC Johnson's unit, the 657th Transportation unit out of Mount Vernon, Illinois. SPC Johnson was on his first Deployment.
Team Johnson proudly walks/runs in Jackson's honor on October 12, 2019.
TEAM CAPTAINS: April & Jason Johnson
DONATIONS:
$350 April Johnson
TOTAL MONIES RAISED: $1,000
TEAM MEMBERS:
Lily Anderson
Cara Barker
Nick Barks
James Freeman
James Freeman
Mathew Gates
Robert Herrell
Dennis Ida
Shannon Ida
Ashlyn Isbell
April Johnson
Ashley Johnson
Jason Johnson
Tracy Matteson
Jazmine McGee
Marlene Mcgee
Shelly Oestricker
Sgt Guy Penny
Emily Powers
David Rousselot
Renee Smith
Ty Smith
Brian Thomas
Aubrey Trice