Team Woods will be walking in honor of SFC Brian Woods who died August 16, 2009 from wounds suffered during Operation Enduring Freedom.
Brian was with the 2nd Battalion, 20th Special Forces Group (Airborne)
Team Woods proudly walks in Brian's honor on October 14, 2017.
TEAM CAPTAIN: Pam Woods
TEAM GOAL: $
MONEY RAISED: $165.00

REGISTRATION FEE(S):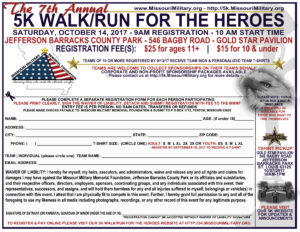 $25 for ages 11+
$15 for ages 10 and under
OFFLINE REGISTRATION:
Click below for the Registration Form:
Mail-in Registration Form
ONLINE REGISTRATION:
DONATIONS: To make a donation to Team Woods please click on the DONATE button below. Please allow 24-48 hours for your donation to be listed in this section. Donations do not include a commemorative t-shirt.
TEAM MEMBERS:
Karen Suttles
Tracey Suttles
Mikayla Suttles
Jane Jud-Almstedt
Lily Woods
Ella Woods
Mike Young