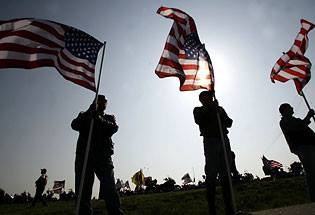 WE WALK FOR THEM ALL is for anyone and everyone who would like to honor our Fallen Heroes who do not know a Fallen Hero, have several Heroes you would like to honor and remember, or want to be a part of a team.
TEAM CAPTAIN: Carol Biggerstaff
TEAM GOAL: $10,000
MONEY RAISED: $1145.00
DONATIONS: To make a donation to Team We Walk for Them All please click on the DONATE button below. Please allow 24-48 hours for your donation to be listed in this section. Donations do not include a commemorative t-shirt.
TEAM MEMBERS:
Mark Dunlop
Angie Cali
Paul Marrs
Deborah Marrs
Patricia Leavitt
Mike Jenkins
Jody Jenkins
Tamara Boyer
Don Biggerstaff
Kain Biggerstaff
Roger Newman
Elena Olmos
Sally Merkel
David Merkel
Julie Rodgers
Linton Jones
Nancy Jones
Christina Tarble
Jean Cole
Craig Sexton
Donna Sexton
John Altemueller
Toni Bilicki
Naomi Mueller
Michael Mueller
Michael Sanders
Jami Sanders
Greg Mach
Brian Koehler
Sherri Mach
Tina Hartung
Beth Roland-Foster
Anthony McGuire
Margaret Bahmandeji
Carey Holland
Paul Carlock x2
Barbara Dunlop
Esther Dunlop
Jean Parshall
Janelle Eveld
Theresa Staryak
Abbie Burgess
Jamie Sutton
Angie Fay
Mikah Fay