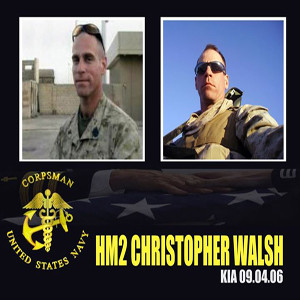 Team Walsh will be walking in honor of HM2 Christopher Walsh who was killed in action on September 4, 2006 in Fallujah, Iraq.
Team Walsh proudly walks in Christopher's honor on October 14, 2017.
Team Captain: Tracy Brady
Team Goal: $
Money Raised: $440.00
DONATIONS: To make a donation to Team WALSH please click on the DONATE button below and be sure to state that your donation should go to TEAM WALSH. Please allow 24-48 hours for your donation to be listed in this section. Donations will not include the commemorative t-shirt. 
$25.00 – Mark Sweaney
TEAM MEMBERS:
Al Puknat
Gail Simmons
Ronda Ricks
Aaron J Wiemann
Dave Mitchell
Caroline Mitchell
Cheryl Oberkrom
Maureen Walsh
Erin Watson
Hadley Watson
Caleb Watson
Andy Watson
Michelle Keightley
Brian Christian
Jon Fueglein
Ellen Tisell