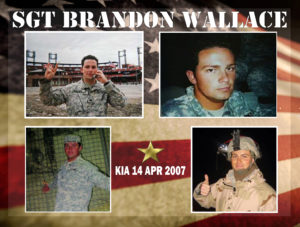 Team Wallace will be walking/running in honor of Army SGT. Brandon Wallace who was killed in action on April 14, 2007 in Fallujah, Iraq during Operation Iraqi Freedom. He was assigned to the 1451st Transportation Company, 13th Support Command, Iraq.
Team Wallace proudly walks in Brandon's honor on October 14, 2017.
TEAM CAPTAINS: Dennis Clines
TEAM GOAL: $
MONEY RAISED: $275.00
DONATIONS: To make a donation to Team Wallace please click on the DONATE button below. Please allow 24-48 hours for your donation to be listed in this section. Donations will not include the commemorative t-shirt. 
$25.00 – Heather Askew
TEAM MEMBERS:
Sarah Wallace
Tonya Ehlert
Kody Thornhill
Vicky Howard
Joseph Saunders
Scott Davis x2
Connie Davis
Veronica Jo Davis