Team Veterans proudly walks/runs in honor of those who served on October 14, 2017.
TEAM CAPTAIN: Liz & Richard Fadel
TEAM GOAL: 
MONEY RAISED: $1150.00

REGISTRATION FEE(S):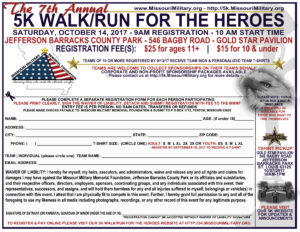 $25 for ages 11+
$15 for ages 10 and under
OFFLINE REGISTRATION:
Click below for the Registration Form:
Mail-in Registration Form
ONLINE REGISTRATION:
DONATIONS: To make a donation to Team Veterans please click on the DONATE button below. Please allow 24-48 hours for your donation to be listed in this section. Donations do not include a commemorative t-shirt.
Sam Grefath – $100.00
Denise Grefath – $100.00
Liz Fadel – $175.00
Peter Grefath – $50.00
Claire & Robert Crosson – $100.00
Jill McDonald – $25.00
Kurt McDonald – $100.00
TEAM MEMBERS:
Rosie Sei
Karen Coyle
Liesel Farris
Mike Grefath
Denise Grefath
Regina Summers
Kurt McDonald
Jerry McDonald
Ross Summers
Claire Fadel Crosson
Patrick Crosson
Anthony Fadel
Alex Fadel