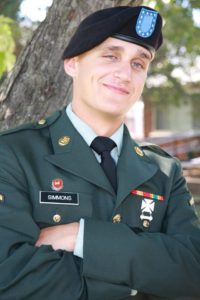 Team Simmons will be walking in honor of PFC Ryan Simmons who served during Operation Iraqi Freedom. Ryan died stateside on August 12, 2012.
Ryan was with the Army Reserves 739th Engineer Company MRBC in Granite City.
Team Ryan Simmons proudly walks in Ryan's honor on October 14, 2017.
TEAM CAPTAINS: Gail Simmons
TEAM GOAL: $
MONEY RAISED: $500.00
DONATIONS:
To make a donation to Team Ryan Simmons please click on the DONATE button below and be sure to state that your donation should go to TEAM RYAN SIMMONS. Please allow 24-48 hours for your donation to be listed in this section. Donations do not include a commemorative t-shirt. 
TEAM MEMBERS:
Bobbie Kaltmayer
Norm Halliday
Ann Marie Brown
Andrew Seversten
Mary Ann Seversten
Sheila Orr
David Hartmann
Jeff Byrnes
Andrew Wheeler
Maureen Hartmann
Sydney Kaltmayer
Linda Byrnes
Alex Booker
Chelsea Booker
Ellie Tisell x2