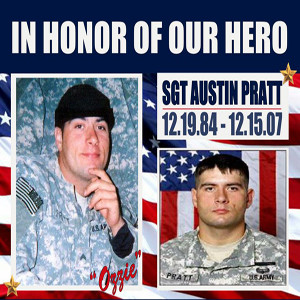 Team Pratt will be walking/running in honor of SGT Austin Pratt who was killed in action on December 15, 2007 during Operation Iraqi Freedom.
Team Pratt proudly walks/runs in Austin's honor on October 14, 2017.
Team Captain: Monica & David Pratt
Team Goal: $
Money Raised: $750.00
DONATIONS: To make a donation to Team Pratt please click on the DONATE button below. Please allow 24-48 hours for your donation to be listed in this section. Donations will not include the commemorative t-shirt. 
$50.00 Stephen Wampler
TEAM MEMBERS:
Mary Ann Pratt
Timothy Pratt
Caleb WIld
Ronda Kertz
Chris Kertz
Gary Manasco
Judy Manasco
Diana Politte
Jeannie Brown
Karen Politte
Bob Politte
Angie Mitchell
Cathy Coleman
Ron Gillam
Rose Gillam
Heather Politte
Dan Politte
Cynthia Johnson
Clif Johnson
Sarah Mosier
Brandon Morgan
Cameron Morgan
Amanda Morgan
Kara Godier
Stacey Hager
Brian Kleinschrodt