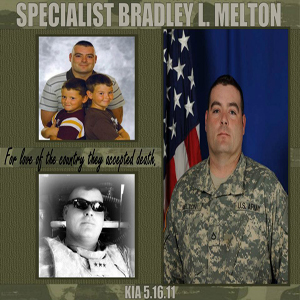 Team Melton will be walking/running in honor of SPC Bradley L Melton who was killed in action on May 16, 2011 during Operation Enduring Freedom.
Team Melton proudly walks in Bradley's honor on October 14, 2017.
Team Captain: Angelica Ornelas
Team Goal: $
Money Raised: $1085.00.
DONATIONS: To make a donation to Team Melton please click on the DONATE button below. Please allow 24-48 hours for your donation to be listed in this section. Donations do not include a commemorative t-shirt.
Team Members:
Billy Skaggs
Sherry Dillon
Tommi Woolsey
Trey Guill
Leslie Varney
Cathy Haag
Kimberly Turner
Robert Turner
November-Grace Turner
Leah Ornelas
Amanda Cannon
Kaden Cannon
Grace Cannon
Luke Cannon
Harmony Coburn
Ben Coburn
Kaela Grytness
Nick Vandeventer
Bill Edburg
Jodi Hollandsworth
Curtis Clayton
Theresa Ray
Matteo Eckert
Angelica Otero
MacKenzie Issacson
Steven Beem
Benita Beem
Amanda Schivitz
Malakai Sucic
Willow Sucic
Liaam Schivitz
Landon Schvitz
Owen Schivitz
Jesus Ornelas
Cheyanne Ornelas
Cassandra Cook
Kathaleen Schivitz
Cherry Rowland
Samuel Rowland
Cynthia Edburg
Nicole Seckel
Noah Smith
Rocky Smith
Stanley Cover
Bobbie Cover
Jim Dillon