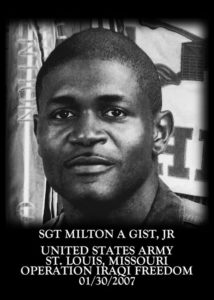 Team Gist will be walking/running in honor of SGT Milton Gist, Jr. who was killed in action on January 30, 2007 during Operation Iraqi Freedom.

Milton was with the 1st Battalion, 77th Armor Regiment, 2nd Brigade Combat Team, 1st Infantry Division
Team Gist proudly walks/runs in Milton's honor on October 14, 2017.
TEAM CAPTAIN: Anginette Morgan
TEAM GOAL: $
MONEY RAISED: $330.00
DONATIONS: To make a donation to Team Gist please click on the DONATE button below. Please allow 24-48 hours for your donation to be listed in this section. Donations will not include the commemorative t-shirt. 
TEAM MEMBERS:
Beverly Turner
Sharon Collins
Patty Clay
Robin Alton-Roberson
DeAndra Morgan, Jr.
DeAndra Morgan, Sr.
Antonio Morgan
Nika Morgan
Cartisha Morgan
Robert McClure
Mary O'brien
Carol Biggerstaff