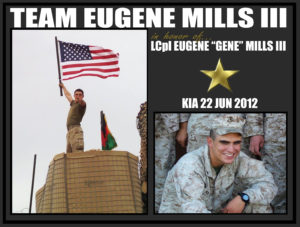 Team Eugene Mills III will be walking/running in honor of Marine Lance Corp. Eugene "Gene" Mills III of Laurel, Maryland, who was killed while conducting combat operations in the Sagin Valley, Helmand Province, Afghanistan on June 22, 2012.
He was assigned to 1st Battalion, 8th Marine Regiment, 2nd Marine Division, II Marine Expeditionary Force of Camp Lejeune, North Carolina.
Team Eugene Mills III proudly walks in Eugene's honor on October 13, 2018.
TEAM CAPTAINS: Shelby Edsell
TEAM GOAL: $
MONEY RAISED: 
TEAM MEMBERS:

Shelby Edsell