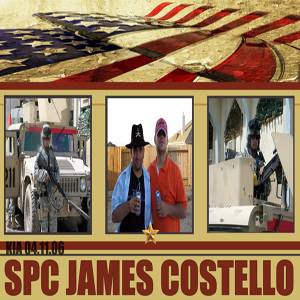 Team Costello will be walking/running in honor of SPC James F Costello III  who was killed in action on April 11, 2006 during Operation Iraqi Freedom.
James was with the 7th Squadron, 10th Cavalry Regiment, 1st Brigade, 4th Infantry Division
Team Costello proudly walks in James' honor on October 14, 2017
Team Captain: Catie Costello
Team Goal: $
Money Raised: $550.00
DONATIONS: To make a donation to Team Costello please click on the DONATE button below and be sure to state that your donation should go to TEAM COSTELLO. Please allow 24-48 hours for your donation to be listed in this section. Donations do not include a commemorative t-shirt.
TEAM MEMBERS:
Jim Costello
Rob Costello
Roseann Hughes
Scott Morga x2
Kevin Gates
Patricia Gates
Michelle Sonderman
Megan Hasty
Joe Bilello
Paul Buffa
Pat Herod
Laurie Anderson
Matthew Karasick
Terisa Peterson
Jeremy Horman
Nicole Gawrys
Katie Gawrys
Alison Lappe
Kelsey Junh
Dana Kerns