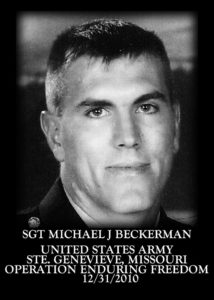 Team Beckerman will be walking/running in honor of SGT Michael Joe Beckerman of the 101st Airborne who was killed in action on December 31, 2010 while serving in Operation Enduring Freedom as a combat engineer.
Michael was with the 2nd Brigade Support Troop Battalion, 2nd Brigade Combat Team, 101st Airborne Division
Team Beckerman proudly walks/runs in Michael's honor on October 14, 2017.
TEAM CAPTAIN: Lisa McGregor
TEAM GOAL: $
MONEY RAISED: $747.00

REGISTRATION FEE(S):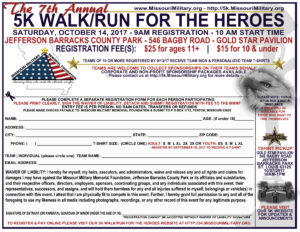 $25 for ages 11+
$15 for ages 10 and under
OFFLINE REGISTRATION:
Click below for the Registration Form:
Mail-in Registration Form
ONLINE REGISTRATION:
DONATIONS: To make a donation to Team Beckerman please click on the DONATE button below. Please allow 24-48 hours for your donation to be listed in this section. Donations will not include the commemorative t-shirt. 
$32.00 Mendi Baker
TEAM MEMBERS:
Mark McGregor
Dalton Smith
Mendi Baker
Roy Hunter
Shawn Baker
Teresa Baker
Gwyn Baker
Gavin Baker
Timothy Gibson
Jake Snider
Emma Flieg
Angie Flieg
Rhonda Dowdy
Cindy Kirkpatrick
Julie Huhman
Johnathan Dickerson
Taylor Dickerson
Delores Basler
Kim Johnson
Belinda Vaughn
Wilma Fuller
Brianna Beckerman
Serenitie Smith
Harold Detzen
Sally Detzen
Jeff Cooper
Tony Cooper
Deborah Poffarl
Lily Sutherland
Shea Sutherland
Keith Pickett